9 Days Jaipur Bikaner Jaisalmer Jodhpur Udaipur tour package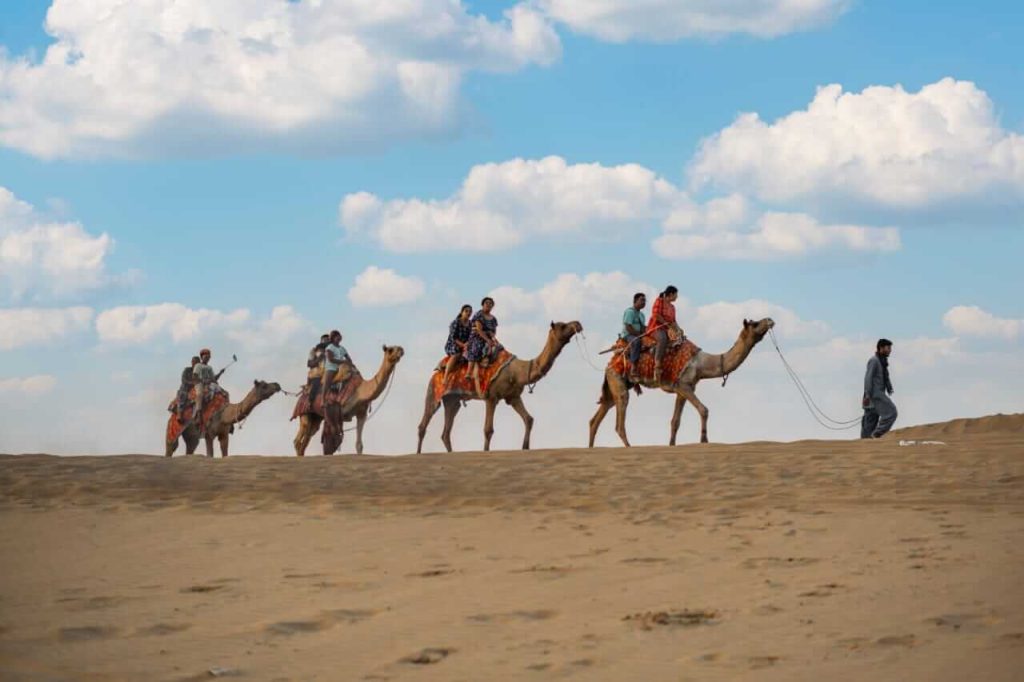 Witness the beauty of Hawa Mahal, also known as the "Palace of the Winds." This five-story monument is famous for its intricately carved jharokhas, showcasing a fusion of Hindu Rajput and Islamic architecture.
Explore the historic Amer (Amber) Fort, an architectural marvel with stunning palaces and fortifications.
Visit the City Palace, a royal residence, and explore the local markets.
Visit Junagarh Fort, a stunning architectural marvel.
Explore the Laxmi Niwas Palace and the Bikaner Camel Research Farm.
Explore the magnificent Jaisalmer Fort, a UNESCO World Heritage site known for its unique architecture and history.
Enjoy a camel safari in the Khuri Sand Dunes, a must-see attraction in the Thar Desert.
Marvel at the desert's night sky with exceptional stargazing opportunities.
Explore the imposing Mehrangarh Fort, perched on a hill and offering breathtaking views of the Blue City.
Visit Jaswant Thada, a stunning marble cenotaph adorned with intricate carvings.
Immerse yourself in the local culture and shop at the vibrant markets.
Cruise on the picturesque Lake Pichola and take in the serene beauty of the City of Lakes.
Explore the opulent City Palace, with its magnificent architecture and a visit to the historic Jagdish Temple.
Stroll through the serene Saheliyon Ki Bari, an old garden with fountains and lotus pools.
With its Royal Palaces and Renovated Havelis, Rajasthan invites you to experience its unsurpassed grandeur. One of such sites that should be completely experienced is Rajasthan, also known as the "Cultural Capital of India," and our vacation package has been carefully created to assist you in doing just that.
Route: 2N Jaipur- 1N Bikaner- 2N Jaisalmer- 1N Jodhpur- 2N Udaipur
Duration: 9 Days / 8 Nights
Start Point: Jaipur
End Point: Udaipur
A comfortable, clean vehicle such as a sedan, SUV, or TT, based on the group size.
Pick-up and drop-off services at the railway station, bus stop, or airport, aligned with the arrival time.
Accommodation in hotels or camps on a double or triple sharing basis, depending on the group size.
Breakfast included from Day 2 to the last day as per the itinerary.
Inclusive of driver allowances, fuel charges, toll tax, state tax, parking fees, and other related expenses.
An experienced and professional driver for the entire duration of the tour.
Guided sightseeing as per the itinerary.
Elephant Ride to Amer Fort: Enjoy a unique experience by taking an elephant ride up to the Amer Fort, a traditional and iconic mode of transport.
Camel Research Farm: Learn about the indispensable role of camels in the region and interact with these fascinating animals at the Bikaner Camel Research Farm.
Stay in a Desert Camp: Spend a night in a desert camp in the Thar Desert, offering a chance to sleep under the stars, enjoy cultural performances, and experience the desert's tranquility.
Dune Bashing: For the adventurous traveler, dune bashing in a 4×4 vehicle is an exhilarating activity in the Khuri Sand Dunes.
Visit Kuldhara: Explore the abandoned village of Kuldhara, known for its intriguing history and eerie atmosphere.
Ziplining at Mehrangarh Fort: Experience the thrill of ziplining over the majestic Mehrangarh Fort. It's a unique way to appreciate the fort's grandeur and the city below.
Osiyan Desert Safari: While in Jodhpur, consider taking a desert safari to the Osiyan Desert for a distinct experience of Rajasthan's sandy landscapes.
Sunset Boat Ride on Lake Pichola: Witness the breathtaking sunset over Lake Pichola while on a tranquil boat ride. The play of colors on the water is truly magical.
By Air: Flying into the Pink City
Jaipur International Airport (JAI) is the primary gateway for air travelers. Located approximately 13 kilometers from the city center, the airport caters to both domestic and international flights. Once you land, you can easily find taxis, cabs, and even pre-paid services to take you directly to your accommodation.
By Rail: On Board the Royal Rajasthan Railways
Jaipur Junction is a major railway station well-connected to various cities across India. Several trains, including luxurious options like the Palace on Wheels, connect Jaipur to Delhi, Mumbai, Kolkata, and other significant cities. The railway station is situated in the heart of the city, ensuring convenient access to your chosen stay.
By Road: A Scenic Drive to the Pink City
If you prefer the road, Jaipur boasts excellent road connectivity. National Highway 8 (NH8) connects Jaipur to Delhi, making it an approximately 5-hour drive. The Rajasthan State Road Transport Corporation (RSRTC) also operates numerous buses from nearby cities. Opt for a comfortable bus journey or hire a taxi for a more personalized experience.
Arrive in Jaipur, the Pink City.
Check in to your hotel and relax.
Explore the local markets and enjoy the vibrant atmosphere.
Overnight stay in Jaipur.
Day 2: Jaipur Sightseeing
Visit the Amber Fort, a historic hilltop fort with stunning architecture.
Explore the City Palace and its museums.
Discover the Hawa Mahal, the Palace of Winds.
Visit the Jantar Mantar, an astronomical observatory.
Overnight stay in Jaipur.
Drive to Bikaner, known for its impressive forts and palaces.
Visit Junagarh Fort, a stunning architectural marvel.
Explore the Laxmi Niwas Palace and the Bikaner Camel Research Farm.
Day 4: Bikaner to Jaisalmer
Head to the golden city of Jaisalmer, known for its desert landscape.
Visit the Jaisalmer Fort, a UNESCO World Heritage Site.
Explore the intricately designed Patwon Ki Haveli and Gadisar Lake.
Enjoy a camel safari in the Thar Desert.
Witness a beautiful sunset in the sand dunes.
Stay in a desert camp and experience traditional Rajasthani folk music and dance.
Day 6: Jaisalmer to Jodhpur
Travel to the enchanting city of Jodhpur.
Explore Mehrangarh Fort, one of the largest forts in India.
Visit Jaswant Thada, a stunning marble cenotaph.
Day 7: Jodhpur to Udaipur via Ranakpur
En route to Udaipur, stop at Ranakpur to visit the renowned Jain Temples with intricate marble architecture.
Continue to the romantic city of Udaipur, often called the "City of Lakes."
Explore the City Palace, which offers breathtaking views of Lake Pichola.
Visit Jagdish Temple and Saheliyon Ki Bari.
Enjoy a boat ride on Lake Pichola and visit Jag Mandir Island.
Depending on your flight schedule, you may have some free time for last-minute shopping or leisure activities.
Depart from Udaipur with unforgettable memories of your Rajasthan tour.
Semi Deluxe Package starts from INR 55999 per couple
sedan cab for entire tour
2/3 star (Semi Deluxe) hotels
Breakfast from Day 2
Deluxe Package Starts from INR 62999 per Couple
sedan cab for entire tour
3/4 star (Deluxe) hotels
Breakfast from Day 2
Super Deluxe Package Starts from INR 73,999 per Couple
sedan cab for entire tour
4/5 star (Super Deluxe) hotels
Breakfast from Day 2
FAQs for 9 Days Jaipur Bikaner Jaisalmer Jodhpur Udaipur tour package
What is the best time to visit these cities in Rajasthan?
Rajasthan is best visited from October to March when the weather is pleasant and suitable for exploring.
Are there any cultural etiquettes I should be aware of during my visit?
Dress modestly when visiting temples and be respectful of local customs and traditions.
Do I need any special permits for the camel safari in Jaisalmer?
No special permits are required for a standard camel safari. Your tour operator will arrange it for you.
Is it safe to take an elephant ride at Amer Fort in Jaipur?
Yes, it is generally safe, but ensure that the animals are treated well, and the activity adheres to ethical standards.
What are the options for vegetarians or those with dietary restrictions in Rajasthan?
Rajasthan offers a variety of vegetarian dishes and can accommodate dietary restrictions. Just inform your tour guide or restaurant in advance.
What's the best way to stay connected with family and friends during the tour?
Most cities have good mobile network coverage, and you can purchase local SIM cards or use international roaming if needed.
What should I pack for the desert camping in Jaisalmer?
Pack comfortable clothing, sunscreen, a hat, sunglasses, and a warm layer for the cooler desert nights.
Are there opportunities for shopping for local handicrafts and souvenirs?
Yes, you'll find a plethora of markets in these cities offering textiles, jewelry, handicrafts, and more.
Is photography allowed at all the tourist attractions?
Photography is generally allowed, but be sure to check for any specific rules or fees at each attraction.
What's the recommended mode of transportation between these cities?
The tour often includes a private vehicle with a driver, making it a convenient and comfortable way to travel between cities in Rajasthan.