3 Days Jaipur tour Package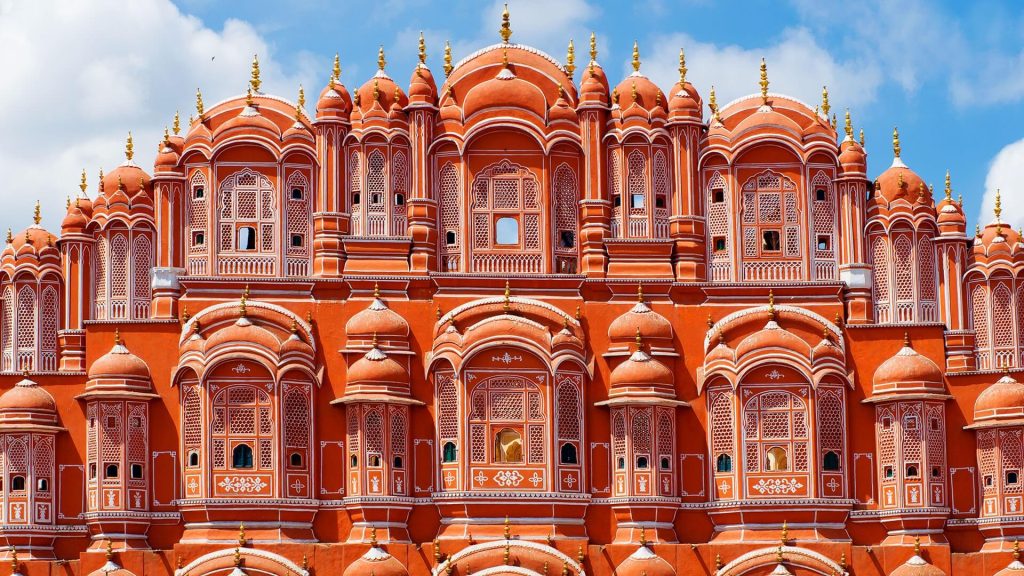 Explore the intricate architecture of Hawa Mahal, City Palace, and Jantar Mantar showcasing the rich cultural history of Jaipur.

Embark on an unforgettable journey to Amber Fort, highlighted by an elephant ride and the grandeur of its palaces and ramparts.

Enjoy breathtaking panoramic views of Jaipur and the Aravalli hills from the historically significant Jaigarh and Nahargarh forts.

Immerse yourself in Rajasthani culture with an evening at Chokhi Dhani, featuring traditional dance, music, and authentic cuisine.

Experience the vibrant energy of Johari Bazaar and Bapu Bazaar, where you can shop for unique Rajasthani handicrafts and textiles.

Witness a mesmerizing sunset from Nahargarh Fort, creating a magical atmosphere over the Pink City.
Rajasthan, a state known for its regal nature, extends a sincere invitation to visit. Rajasthan is a land of vibrant hues, extensive history, amazing scenery, magnificent lakes, lovely palaces, and golden dunes, in addition to fantastic cuisine. With this vacation package, you may experience the transition from the lush vegetation and serene lakes of Jaipur and Udaipur to the scorching deserts of Jodhpur and Jaisalmer.
Route: Jaipur 
Duration: 3 Days / 2 Nights
Start Point: Jaipur
End Point: Jaipur
Note- you can also customize your tour for that call us or fill the Enquiry form.
A comfortable, clean vehicle such as a sedan, SUV, or TT, based on the group size.
Pick-up and drop-off services at the railway station, bus stop, or airport, aligned with the arrival time.
Accommodation in hotels or camps on a double or triple sharing basis, depending on the group size.
Breakfast included from Day 2 to the last day as per the itinerary.
Inclusive of driver allowances, fuel charges, toll tax, state tax, parking fees, and other related expenses.
An experienced and professional driver for the entire duration of the tour.
Guided sightseeing as per the itinerary.
Venture beyond the usual attractions and explore the ancient stepwells of Jaipur. Don't miss the Panna Meena Ka Kund, a well-preserved stepwell known for its ingenious architecture and geometric patterns.
Embrace a unique encounter with elephants at Elefantastic. Don't miss the chance to interact, feed, and paint these gentle giants, creating unforgettable memories.
Elevate your Jaipur experience with a hot air balloon ride. Don't miss the breathtaking views of the city and its architectural wonders from the serene heights of the sky.
Dive into the cosmic mysteries with an astrology session at Samrat Yantra in Jantar Mantar. Don't miss the opportunity to unravel your destiny through ancient astronomical techniques.
Embark on a safari at Nahargarh Biological Park. Don't miss the chance to spot diverse wildlife, including lions, tigers, and a variety of exotic birds, against the scenic backdrop of the Aravalli Hills.
Discover the charm of boutique shopping in Old City Havelis. Don't miss the hidden gems of quaint stores tucked within historical havelis, offering unique handicrafts and artifacts.
Witness the Albert Hall Museum come to life at night. Don't miss the opportunity for stunning night photography, capturing the museum's architectural beauty illuminated against the dark sky.
Escape the ordinary and indulge in a luxury camping experience at Dera Amer Camp. Don't miss the chance to enjoy royal hospitality under the starlit desert sky.
Explore the vibrant street art in Kishanpole Bazaar. Don't miss the opportunity to witness the transformation of ordinary walls into colorful canvases, depicting Jaipur's rich culture.
Immerse yourself in contemporary art at Jawahar Kala Kendra. Don't miss the rotating exhibitions, showcasing the works of local and international artists in a uniquely designed cultural space.
Uncover the art of hand printing at the Anokhi Museum. Don't miss the chance to witness traditional block printing techniques and explore the evolution of textile art in Rajasthan.
Experience history in a captivating way with the sound and light show at Amber Fort. Don't miss the dramatic retelling of Jaipur's past against the backdrop of this ancient fort.
Escape the bustling city and indulge in bird watching at Man Sagar Lake. Don't miss the serene moments as you spot migratory birds around the peaceful waters of Jal Mahal.
Take a heritage water walk in the Chandpole area. Don't miss the chance to explore the traditional water sources and historic structures, providing a unique perspective on Jaipur's water management.
Begin your day with tranquility through sunrise yoga at Nahargarh Fort. Don't miss the opportunity to practice yoga amidst the historical aura and panoramic views of the waking city.
By Air: Flying into the Pink City
Jaipur International Airport (JAI) is the primary gateway for air travelers. Located approximately 13 kilometers from the city center, the airport caters to both domestic and international flights. Once you land, you can easily find taxis, cabs, and even pre-paid services to take you directly to your accommodation.
By Rail: On Board the Royal Rajasthan Railways
Jaipur Junction is a major railway station well-connected to various cities across India. Several trains, including luxurious options like the Palace on Wheels, connect Jaipur to Delhi, Mumbai, Kolkata, and other significant cities. The railway station is situated in the heart of the city, ensuring convenient access to your chosen stay.
By Road: A Scenic Drive to the Pink City
If you prefer the road, Jaipur boasts excellent road connectivity. National Highway 8 (NH8) connects Jaipur to Delhi, making it an approximately 5-hour drive. The Rajasthan State Road Transport Corporation (RSRTC) also operates numerous buses from nearby cities. Opt for a comfortable bus journey or hire a taxi for a more personalized experience.
Day 1: Arrival in Jaipur| Explore the Pink City
Arrive in Jaipur by morning flight/train.
Check-in to your hotel and freshen up.
Start your day with a visit to Hawa Mahal, an iconic palace with a unique honeycomb facade.
Spend time exploring the history and architecture.
Visit the City Palace, a magnificent blend of Mughal and Rajasthani architecture.
Explore the museums and courtyards within the palace complex.
Head to Jantar Mantar, an astronomical observatory with fascinating geometric instruments.
Understand the ancient Indian science of astronomy.
Stroll through the vibrant markets of Johari Bazaar and Bapu Bazaar.
Shop for traditional Rajasthani handicrafts and textiles.
Experience Rajasthani hospitality and culture at Chokhi Dhani, a traditional village resort.
Day 2: Historical Marvels
Visit Amber Fort, a majestic fort on the outskirts of Jaipur.
Enjoy an elephant ride to the fort and explore its palaces and courtyards.
Explore Jaigarh Fort, known for its massive cannon and scenic views of the Aravalli hills.
Walk along the fortifications and visit the armory museum.
Drive to Nahargarh Fort for a panoramic view of Jaipur at sunset.
Relax and enjoy the evening at the Padao Restaurant.
Day 3: Cultural Immersion
Visit the Albert Hall Museum, housing a diverse collection of art and artifacts.
Appreciate the Indo-Saracenic architecture.
Explore Sisodia Rani Garden, a beautiful garden with tiered multi-level gardens and fountains.
Relax amidst the lush greenery.
Attend a cultural show at Jawahar Kala Kendra, showcasing Rajasthani music and dance.
Semi Deluxe Package starts from INR 14999 per couple
sedan cab for entire tour
2/3 star (Semi Deluxe) hotels
Breakfast from Day 2
Deluxe Package Starts from INR 16999 per Couple
sedan cab for entire tour
3/4 star (Deluxe) hotels
Breakfast from Day 2
Super Deluxe Package Starts from INR 19,999 per Couple
sedan cab for entire tour
4/5 star (Super Deluxe) hotels
Breakfast from Day 2
FAQs for 3 days Jaipur tour package
Jaipur is accessible by air, train, and road. The city has an international airport, a well-connected railway station, and is easily reachable by road from major cities.
When is the best time to visit Jaipur?
The ideal time to visit Jaipur is from October to March when the weather is pleasant, making it conducive for exploring the city.
What should I wear during the tour?
Wear comfortable clothing, especially during the daytime. It's advisable to carry a hat or scarf to protect against the sun. Respectful attire is recommended for visits to religious sites.
Do I need to book tickets in advance for attractions?
It's advisable to book tickets in advance, especially during peak tourist seasons, to avoid long queues at popular attractions.
Are there vegetarian food options available in Jaipur?
Yes, Jaipur offers a variety of vegetarian dishes. Traditional Rajasthani thali is a must-try for those seeking an authentic culinary experience.
Is Jaipur safe for solo travelers?
Jaipur is generally considered safe for solo travelers. However, as with any destination, it's essential to take standard safety precautions.
Are English and Hindi widely spoken in Jaipur?
Yes, English and Hindi are widely spoken in Jaipur, and most people in the hospitality and tourism industry are proficient in these languages.
What are the must-visit markets in Jaipur?
Johari Bazaar and Bapu Bazaar are vibrant markets where you can shop for traditional Rajasthani handicrafts, textiles, and jewelry.
Can I explore Jaipur on foot?
While some attractions are centrally located and can be explored on foot, it's advisable to use transportation for sites that are farther apart, such as the forts.
What is the significance of the Hawa Mahal?
Hawa Mahal, or the Palace of Winds, is a unique architectural marvel designed to allow royal ladies to observe street festivals while remaining unseen.
Can I take photographs at the attractions?
Photography is generally allowed at most attractions, but it's advisable to check for any specific rules or restrictions at each site.
Is there an entry fee for Nahargarh Fort?
Yes, there is an entry fee for Nahargarh Fort. It's recommended to check the latest fee details and timings before planning your visit.