7 Days Jaipur Ranthambhore Chittorgarh Udaipur tour package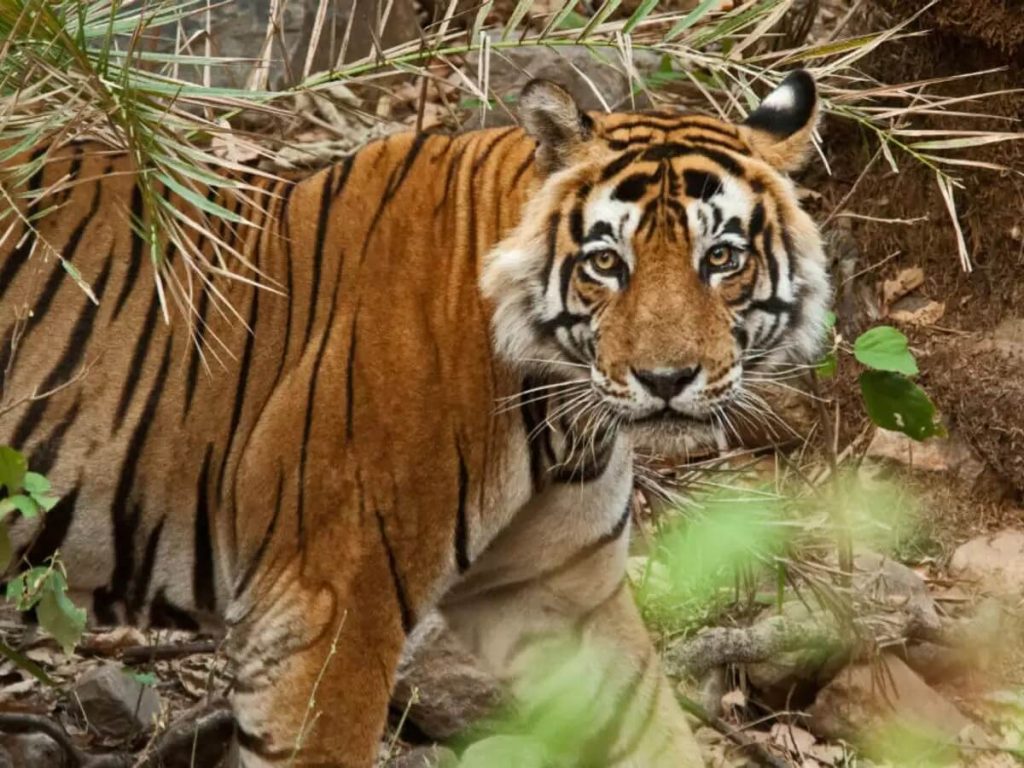 Elephant ride at Amber Fort: Enjoy a memorable elephant ride to the entrance of Amber Fort, offering a royal experience.
Lively local markets: Explore the colorful and bustling markets of Jaipur, including Johari Bazaar and Bapu Bazaar, known for their vibrant textiles, jewelry, and handicrafts.
Take another wildlife safari in the national park.
Explore the Ranthambhore Fort, a historic landmark.
Explore Chittorgarh Fort, one of the largest forts in India.
Lake City: Udaipur is often called the "City of Lakes" due to its beautiful lake system, including Lake Pichola and Fateh Sagar Lake.
City Palace on the lake: The City Palace of Udaipur is unique for its location, as it seems to float on the serene waters of Lake Pichola.
Romantic ambiance: Udaipur is known for its romantic charm, with its lakefront settings and the elegant Lake Palace hotel, which appears to rise from the water.
This 7-day tour offers a captivating exploration of Rajasthan's history, culture, and natural beauty, leaving you with a diverse and memorable experience of North India.
Route: 2N Jaipur- 1N Ranthambhore- 1N Chittorgarh- 2N Udaipur
Duration: 7 Days / 6 Nights
Start Point: Jaipur
End Point: Udaipur
A comfortable, clean vehicle such as a sedan, SUV, or TT, based on the group size.
Pick-up and drop-off services at the railway station, bus stop, or airport, aligned with the arrival time.
Accommodation in hotels or camps on a double or triple sharing basis, depending on the group size.
Breakfast included from Day 2 to the last day as per the itinerary.
Inclusive of driver allowances, fuel charges, toll tax, state tax, parking fees, and other related expenses.
An experienced and professional driver for the entire duration of the tour.
Guided sightseeing as per the itinerary.
Elephant Ride at Amber Fort: Don't miss the chance to take an elephant ride to the entrance of Amber Fort for a royal experience.
Jantar Mantar: Explore this unique astronomical observatory, a UNESCO World Heritage site, with its giant sundial and intricate instruments.
Jaipur's Street Food: Sample local street food like pyaaz kachori, aloo tikki, and lassi, providing a delicious taste of Rajasthan's culinary delights.
Tiger Spotting: Ranthambhore National Park is renowned for its tiger population, so don't miss the opportunity to spot these majestic creatures in their natural habitat.
Sound and Light Show at Chittorgarh Fort: Experience the history of Chittorgarh Fort come to life through a captivating sound and light show in the evening.
Sunset at Lake Pichola: Witness the ethereal beauty of Lake Pichola during a sunset boat ride, as the City Palace and Lake Palace reflect the warm hues of the setting sun.

Cultural Evening at Bagore Ki Haveli: Attend the cultural performances at Bagore Ki Haveli, which provide a glimpse into Rajasthan's traditional music, dance, and puppetry.

Dinner at a Rooftop Restaurant: Enjoy a sumptuous dinner at a rooftop restaurant in Udaipur with a panoramic view of the city and its illuminated lakes.
By Air: Flying into the Pink City
Jaipur International Airport (JAI) is the primary gateway for air travelers. Located approximately 13 kilometers from the city center, the airport caters to both domestic and international flights. Once you land, you can easily find taxis, cabs, and even pre-paid services to take you directly to your accommodation.
By Rail: On Board the Royal Rajasthan Railways
Jaipur Junction is a major railway station well-connected to various cities across India. Several trains, including luxurious options like the Palace on Wheels, connect Jaipur to Delhi, Mumbai, Kolkata, and other significant cities. The railway station is situated in the heart of the city, ensuring convenient access to your chosen stay.
By Road: A Scenic Drive to the Pink City
If you prefer the road, Jaipur boasts excellent road connectivity. National Highway 8 (NH8) connects Jaipur to Delhi, making it an approximately 5-hour drive. The Rajasthan State Road Transport Corporation (RSRTC) also operates numerous buses from nearby cities. Opt for a comfortable bus journey or hire a taxi for a more personalized experience.
Arrive in Jaipur, the "Pink City."
Check-in at your hotel and relax.
Explore the local markets or take a leisurely stroll in the evening.
Overnight stay in Jaipur.
Day 2: Jaipur Sightseeing
After breakfast, begin your Jaipur exploration.
Visit the Amber Fort and enjoy an elephant ride.
Explore the City Palace, Hawa Mahal, and Jantar Mantar.
In the evening, you can choose to visit the Albert Hall Museum or enjoy a traditional Rajasthani dinner.
Overnight stay in Jaipur.
Day 3: Jaipur to Ranthambhore
Drive to Ranthambhore after breakfast.
Check-in at your Ranthambhore hotel.
In the afternoon, embark on a thrilling wildlife safari in Ranthambhore National Park.
Overnight stay in Ranthambhore.
Day 4: Ranthambhore to Chittorgarh
Start the day with another wildlife safari in Ranthambhore.
After the safari, depart for Chittorgarh.
Check-in at your Chittorgarh hotel.
Evening at leisure.
Overnight stay in Chittorgarh.
Day 5: Chittorgarh to Udaipur
Explore Chittorgarh Fort and other historical sites in the morning.
Drive to Udaipur, the "City of Lakes."
Check-in at your Udaipur hotel.
Evening at leisure to explore the local markets.
Overnight stay in Udaipur.
Full day of Udaipur sightseeing.
Visit the City Palace, Jag Mandir, and Saheliyon-ki-Bari.
Enjoy a boat ride on Lake Pichola, with a visit to Jagdish Temple.
In the evening, attend a cultural show at Bagore Ki Haveli.
Overnight stay in Udaipur.
After breakfast, visit the Eklingji Temple and Nagda Temples.
Explore the Monsoon Palace for panoramic views of Udaipur.
In the afternoon, check out from your hotel and proceed to the airport or railway station for your departure.
Semi Deluxe Package starts from INR 44999 per couple
sedan cab for entire tour
2/3 star (Semi Deluxe) hotels
Breakfast from Day 2
Deluxe Package Starts from INR 52999 per Couple
sedan cab for entire tour
3/4 star (Deluxe) hotels
Breakfast from Day 2
Super Deluxe Package Starts from INR 59,999 per Couple
sedan cab for entire tour
4/5 star (Super Deluxe) hotels
Breakfast from Day 2
FAQs for 7 days Jaipur Ranthambhore Chittorgarh Udaipur tour
How do I book this tour of Jaipur, Ranthambhore, Chittorgarh, and Udaipur?
You can book this tour through various travel agencies, tour operators, or online booking platforms.


What is the best time to visit these destinations?
The best time to visit is typically during the winter months, from October to March, when the weather is pleasant for sightseeing.
Is tiger sighting guaranteed in Ranthambhore National Park?
No, tiger sightings are not guaranteed, as they are wild animals. However, Ranthambhore is known for its tiger population, and the safaris offer good chances of spotting them.
Are there options for vegetarian or special dietary requirements in the tour package?
Many tour packages offer options for vegetarian and other dietary requirements. It's advisable to inform the tour operator about your preferences when booking.
What is the cancellation policy for this tour?
The cancellation policy can vary by tour operator. It's important to read and understand the terms and conditions before booking.
What are the must-see attractions in Jaipur?
Must-see attractions in Jaipur include Amber Fort, City Palace, Hawa Mahal, and the Jantar Mantar.
Are there any cultural shows or activities included in the Udaipur part of the tour?
Cultural shows and activities can be included in some tour packages. Check with the tour operator for details.
Is travel insurance included in the tour package?
Travel insurance may or may not be included. It's recommended to inquire with the tour operator and consider purchasing travel insurance for added security.
How can I customize this tour to fit my preferences?
Many tour operators offer customization options. You can discuss your preferences with the operator to tailor the tour to your liking.
What's the level of physical activity involved in this tour?
The tour involves a mix of sightseeing, wildlife safaris, and exploring historical sites. Some activities may require moderate physical activity.
What is the accommodation like during the tour?
Accommodations can vary but are generally comfortable and chosen to enhance your experience. You can request specific accommodation preferences with the tour operator.
How do I get to the starting point of the tour in Jaipur, and what's the departure process in Udaipur?
The tour operator will provide details on meeting points and transportation. It's essential to have this information before the tour begins.